Multimedij Stankovci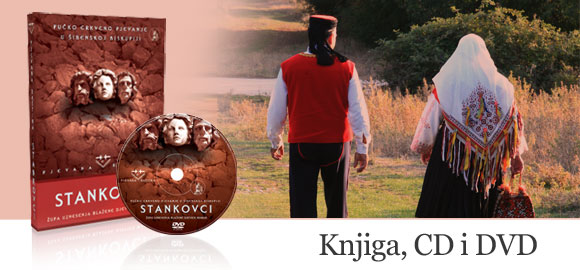 Knjiga/Book
GLAGOLJAŠKO PUČKO CRKVENO PJEVANJE U ŽUPI UZNESENJA BL. DJ. MARIJE – STANKOVCI

Multimedij "Stankovci" sadrži: knjigu (112 stranica, hrvatski i engleski), 4 nosača zvuka (25 pjevanih zapisa), i nosač slike i zvuka (2 dokumentarna zapisa).

TRADITIONAL GLAGOLITIC CHURCH SINGING
IN THE PARISH "Assumption of Mary" – STANKOVCI

Multimedia box "Stankovci" contains: book (112 page, croatian-english), one CD (25 songs), one DVD (2 documentary film).
Audio
| | |
| --- | --- |
| Here is the Music Player. You need to installl flash player to show this cool thing! | CD-sadržaj/content |
Video